Our recruitment ethos
Our values are what shape our perspective on recruitment at FutureGov. Being untraditionally professional means shifting away from traditional recruitment methods. We're in this with you, which is why our tailored method for seeking and nurturing top talent is as individual as you are.
We're ambitious in the change we're seeking and that starts with you.
What makes us positively different?
We have an incredible opportunity to create real change for communities and citizens. Better outcomes and lasting impact are at the core of our vision for 21st-century services.

The health and wellbeing of our team is always important, which is why we offer flexible working opportunities. Life doesn't always follow the nine-to-five routine and neither do we.

We're always learning, growing and building together. Because of that, we include everyone in our collective development by hosting weekly communities of practice and lunch-and-learns.

A holiday gives you a chance to recharge your batteries, so we offer our staff 25 days in addition to public holidays - but please bring us back a souvenir.

Team breakfasts, a snack cupboard and team trips are built into the foundation of life at FutureGov. But we know that it's so much more than that. We're a close-knit bunch, with daily collaboration, a supportive environment and a passion for empowerment.

We're untraditionally professional. Working with us will feel different. Your progression is in your hands and we'll give you every tool to help you achieve your goals. We're here to offer you support.
Haven't found what you're looking for?
Do we seem like a perfect match? Send us a message and let us know why you belong at FutureGov.
Contact us
Meet some FutureGovers
Few organisations have a project portfolio that is quite as diverse. At any time, you could be working on an international UN project or with a local council, and everything in between. We're often working with clients on a digital transformation journey, meaning our projects have a strategic profile and visibility. I feel insanely lucky to work alongside such a curious, bright and passionate bunch of people. It's a very special place.

Jen

Project director lead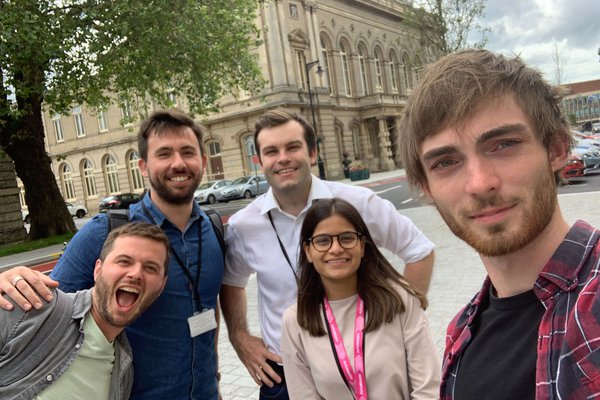 We have a chance to approach interesting projects in different ways. No project is the same, and so, we're constantly evolving and improving the way we do things and that is super rewarding. You get to constantly apply different thinking, knowledge and techniques to the work that you do.

Will

Lead delivery manager
The reason I love working at FutureGov? It's the people and the work, it's all about the people and the work. We're a motley crew of extremely passionate people who care about making an impact. But equally, it's the work we do. It's meaningful work, and it's hard but every day you're making a change in real people's lives, and that's something not many companies can offer.

Elle

Product design lead
There are so many opportunities to constantly learn and develop at FutureGov! From sharing project learnings at team meetings, strengthening our craft at Service Design meetups, and seeking inspiration from the outside world at Community of Practice. There's always something new to explore and grow from. Not forgetting the people - everyone is so generous with their time and always up for grabbing a coffee and sharing best practice.

Sehel

Service designer
To be able to do work that helps real people and have a positive impact is both rewarding and challenging. I have grown and learned so much as a designer and it's unlike other places in the way you have the autonomy to try new things and can contribute and shape the design practice within the company. Everyone has so much passion for their craft and are so supportive, that makes a big difference in making it a great place to work.

Jenny

Product designer
Who will you meet first at FutureGov?
Rob
People director
As the people director at FutureGov, Rob develops HR initiatives that aim to streamline our business processes and capitalise on growing the FutureGov family.

Fun Fact: "My first car was a Wolseley 1500 which had a crank handle to start it"
Faith
Talent manager
Faith will be your first point of contact and will be in your interview. Once you start, Faith will meet you for monthly chats and your annual reviews. As our Talent Manager, Faith is always on hand to see how you're progressing, discuss where you want your role to go and answer any questions you might have.

Fun Fact: "I'm a keen Richard Madeley enthusiast and can quote any of his gaffs from 1988 onwards"
Alex
HR and office assistant
After you've been offered a role at FutureGov, Alex will be in touch via email with everything you'll need before you start. On your first day, Alex will meet you in reception, begin your onboarding process and give you a tour of our studio.

Fun Fact: "I had a bizarre welly hiding habit as a small child."
Our commitment to diversity and inclusion
FutureGov is full of people showcasing different skills, backgrounds and perspectives, which is why our culture is hard to beat. With a commitment to collaboration, inclusivity and diversity of talent we're ensuring that we remain positively different.
Wherever you're from, and whatever your goals, our attention will always be on you.
All applications we receive are treated equally. Our recruitment experience is tailored accordingly to each individual, so you can be confident that your application will be considered as sincerely as the one before. Individuality strengthens our experience.